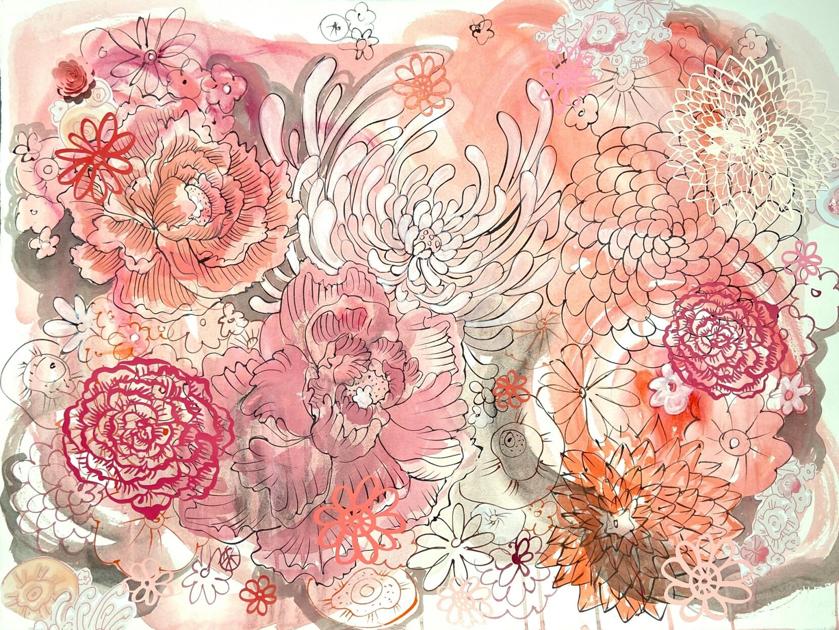 Florist & Decorating
Clemson professor shows off results of summer Columbia residency in new exhibition | Arts
The title of Valerie Zimany's new exhibition at 701 Center for Contemporary Art is And I Was Covered in Blossoms, an apt description.
As soon as you enter the second-floor gallery space, it's as if you walked into a pleasantly surreal artificial flower garden where the plants are in full Technicolor bloom.
On the walls are hundreds of pink, red, purple and yellow carnations and flowers, which Zimany has created from paper, plastic, digitally cut card stock and other materials. On the floor is a flowery white rug, as well as a few oversized ornamented balls — beach balls, originally, which Zimany completely redecorated in a pink pattern that matches the general decor.
There is, also, as you walk through the exhibition, heavily flowered ceramic pottery on the walls and sealed vessels on cubic surfaces.
The title is a quote from Mary Oliver's "White Flowers," a dream-like poem whose narrator falls asleep thinking of death and wakes up covered in blossoms, possibly at her own funeral.
For Zimany, who is chair of the Clemson University art department and an associate professor of art and ceramics, the poem is an example of the Japanese phrase mono no aware, which means an awareness or sensitivity to things.
"It kind of reflects on our time being fleeting but beautiful," she says.
Born in New Jersey, Zimany received her BFA from the University of the Arts in Philadelphia, where a burgeoning interest in ceramics led her to the art of Japan. After graduation, she was awarded a one-year Fulbright scholarship to Japan's Kanazawa College of Arts. She then continued as a Japanese government scholar for graduate studies, followed by a three-year residency at the Utatsuyama Craft Workshop in Kanazawa. A decade later, she would return as a guest researcher on a second Fulbright scholarship.
"Their crafts are gorgeous and dense and highly ornamental, and that's where I spent all my graduate study, and for another three years afterward," Zimany recalls. "I guess I got really interested in the patterns of flowers."
What she learned found its way into what she created.
"In my training, I did traditional enameling and things like that," Zimany says. "That was doing a lot of drawing and practice of drawing masterworks. I was drawing and drawing and drawing these things to learn how to use the materials, but then they also started to creep into a lot of my work."
She noticed the influence when she returned to the United States, in ways both aesthetic and personal. She was interested in the way flowers represented certain cultural meanings in Japan, but they also spoke to her individually.
"They create a beautiful language of things that are in-between states, not a hundred percent one thing, not a hundred percent another," Zimany explains. "When I moved back to the United States, having spent the majority of my 20s in Japan, I really felt like I was in a very in-between place, too. It's kind of an interpretation of language, I think — the beauty of impermanence and representations of different cultural values."
Her new exhibition is mostly comprised of work created over the course of a week-long summer residency at 701 CCA. She brought with her paper, ink, paint and a digital cutter. Then, she says, she "just completely went into overdrive for that week." There were also pieces she started and finished later once she returned home.
Since Zimany normally works in ceramics, the chance to create her own imaginative floral exhibition was liberating.
"It was very freeing and exciting," she says, "to work larger and kind of see what the impact of line and scale would [yield] from those patterns."
Also, as a department chair with countless teaching and administrative duties, the length of the residency suited her.
"For me, it was just like a really short kind of concentrated time to work, especially on a larger scale, too, in a beautiful big space," she notes.
Creating art in that amount of time doesn't always provide much chance for review or reflection, and doesn't allow for either do-overs or changes in direction.
But Zimany embraces this aspect also.
"I'm still processing what I think of a lot of it," she offers. "There's a little bit of riskiness in showing things that are so new."
---
And I Was Covered in Blossoms
Sept. 10-Oct. 26. 701 Center for Contemporary Art. 701 Whaley St. 803-779-4571. 701cca.org.